Select Language :
Click on the microphone icon and start speaking.
Voice typing word
Voice typing or speak to type is the latest way to type a document within very little time. Although the accuracy rate is not very high here, this process definitely reduces our effort and makes our work fast. At OnlineTyping.org, we have added the Google voice to text application. It is an AI-enhanced application with an auto-correction system. That means you will get the most accurate result using this voice typing app.
How to use this voice typing application?
Using this voice typing word program is very easy. First, select the language, select the voice accents from the country list, and then click on the mic button. Your voice will be converted into text. Once you complete the task may copy the document directly using the button below. Or you may mail or whatsapp the doc in just one click.
What languages can you voice type here?
It is not just an English voice typing software; here, you can type Arabic, Gujarati, Malayalam, Nepali, Tamil, and Telugu too. It also supports Hindi voice typing and Sinhala voice typing. So no matter you want to type Nepali or Punjabi, Sinhala or Hindi using this voice typing application, you can do it easily.
Languages you can type here:
Arabic voice typing
Gujarati voice typing
Hindi voice typing
Malayalam voice typing
Marathi voice typing
Nepali voice typing
Punjabi voice typing
Sinhala voice typing
Tamil voice typing
Telugu voice typing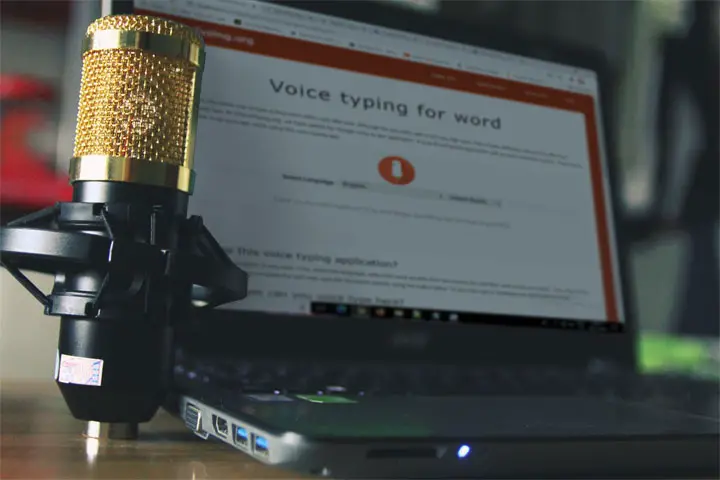 Also, you can type these languages here: Afrikaans, Albanian, Amharic, Armenian, Azerbaijani, Bengali, Basque, Bosnian, Bulgarian, Burmese, Catalan, Chinese, Croatian, Czech, Dutch, Estonian, Filipino, Finnish, French, Galician, Georgian, German, Greek, Gujarati, Hebrew, Hungarian, Icelandic, Indonesian, Italian, Japanese, Javanese, Kannada, Kazakh, Khmer, Korean, Lao, Latvian, Lithuanian, Macedonian, Malay, Malayalam, Marathi, Mongolian, Nepali, Norwegian, Persian, Polish, Portuguese, Punjabi, Romanian, Russian, Serbian, Sinhala, Slovak, Slovenian, Spanish, Sundanese, Swedish, Tamil, Telugu, Thai, Turkish, Ukrainian, Uzbek, Vietnamese, Zulu.
What is Voice Typing, and why should we use it?
Voice typing is a unique technique that allows writing through voice dictation. Rather than using the standard keyboard, this app uses your device's microphone to convert speech into text. Voice typing has many advantages over traditional keyboards and touch screen texting. Here are just five of them:
Can't find your phone's keyboard, or your desktop keyboard is broken? Don't worry! Using voice typing, you can type with your device's mic.
Can't text while doing a different job? Voice typing allows you to keep doing your work while texting.
Larger than average fingers making it hard to type on small keyboards? With voice dictation, there is no need for corrective positioning or pinching.
Want to speed up your workflow? Voice typing allows for continuous speech recognition without the need for pausing to correct mistakes. For example, "I can't text while driving" will become "I- c-a n't t-e-x-t w -hile driving."
No need to look at your screen or keyboard. This comes in handy for those who like to multitask as you can speak without distraction even while moving around.
With voice typing, you can enter text almost anytime and anywhere. With the growing demand for cloud computing services, this technology has become widely available to mobile device owners everywhere.
A little history of voice typing
Voice typing is the process by which a written text is input to devices, such as phones and computers, using voice commands rather than manual typing.
Although voice typing has existed in rudimentary forms for decades, it only recently became practical enough for everyday use because of several factors: computing power increases, internet connectivity spreads; smartphone adoption was rapid; consumer price of dictation software became affordable.
In the early 1990s, voice input for computers was limited to a few research projects and companies that created dedicated hardware.
However, in the mid-1990s, IBM created ViaVoice, which used a microphone and desktop PC to convert users' voice to text.
In the early 2000s, voice input became available to Windows PC users through a range of speech recognition programs such as Dragon NaturallySpeaking from Nuance, MacSpeech's Dictate, and Microsoft Office Speak Quick.
In the mid-2000s, web-based voice recognition was created, allowing users to input text into forms on the web without any hardware or software installation.
In 2010 Google launched its voice typing program, which converted speech to text through a web browser.
In 2015 voice recognition was added to mobile devices with Apple's Siri, followed by Google Now and Microsoft Cortana. Meanwhile, in 2014 Amazon launched the voice typing program Alexa. As of 2018, users can input text into their devices by voice, among others, through Siri, Google Now, Cortana, Alexa, and Bixby.
- voice typing existed in rudimentary forms for decades before becoming practical.