Typing shooting game
Welcome to Typing Shooting, a free typing game for kids. It is a shooter game where the monsters of random words will come. As a shooter, your job is to fire the appropriate monster by hitting the keys of your keyboard.
Do you want to improve your children's' typing speed seamlessly? Let them play the Typing Shooting Game, which is an excellent way to enhance typing speed together with accuracy. This is one of the most accessible typing games for children, besides it is a lot of fun. 
Other typing games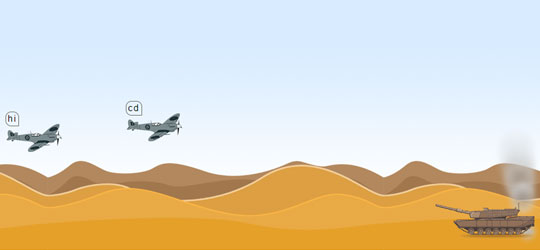 Kamikaze typing game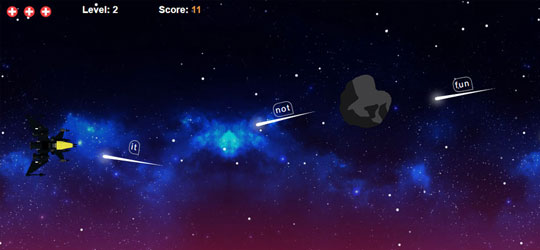 Meteor typing game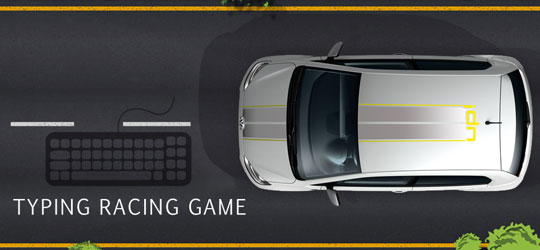 Typing racing game
How To Play the Typing Shooting Game?
This game is specially designed by experts to improve your typing speed. Follow the simple steps mentioned below to play the game: 
Select the difficulty level, then press the start button.
Carefully watch the words passing by.
Hit those letters in your keyboard.
Type with both hands for the better result.
Count your scores – the higher, the better.
If require read the guide by pressing the "how to play" button.
Both adults and kids can play this game not only to increase typing speed but also for fun. Parents can play this game with their children to prepare them for healthy competition; it is an excellent behavioral exercise.
The benefits of playing typing shooting game.
This game is extremely beneficial for the students to practice their keyboarding skills. It will push them harder to reach their goals. This game is appropriate for kids as they like to spend hours on gadgets like smartphones, computers, tablets, laptops, etc.
This game will boost their confidence by increasing their typing speed. It is also great for hand and eye coordination, so in the future, when they will prepare their projects for the final examination, they won't be bothered by their typing speed. The main goal of the Typing Shooting Game is to offer fun and potential to boost keyboard skills. The enhanced typing speed will make them more confident by bringing the problem-solving ability to them. 
It is also a great alternative to the traditional teaching method; this exciting typing game will motivate kids to learn faster. No regular guidance is required to play this game; kids can especially catch the speed by practicing a few times. Kids with unique abilities can try this game for faster learning without any hassle.
Which is the ideal time to play this game?
It is a word typing game, develop for all who want to improve their typing speed. So, there is no age bound to play this game and learn typing.
Nowadays, kids start playing with multiple gadgets at the age of 6 or even before. As soon as they begin learning a keyboard at their schools, they can play the game; it will help them to learn and keep a step ahead from their classmates. If your kids start showing interest just after teaches the letters, you can allow them to play the game. There is no side effect of playing this game sometimes, every day. 
Learning the keyboard is an essential skill for everyone, especially for the children. In this era of digital learning, teaching is not only confined to only pen and paper. New age students are smarter and fast learner; this game will serve their typing needs the best. It will prepare them better for the future. 
Can Adults Play The Game?
Of course, this game is suitable for all-aged persons besides children; adults can get similar advantages by playing this game. There is no age bar for learning and having fun, so adults who are looking to revamp their typing speed can play the game and experience the difference.