Best mechanical keyboards of 2021
The keyboard is an essential part of a computer or a console. It's tough to operate a system without a useful and handy keyboard. For a gamer, it is a performance booster and enhances the beauty of a computer too, and that's why gamers spend a lot of money and effort to choose the best keyboard for them. Here we have listed 5 best mechanical keyboards of 2021 that have a perfect balance of beauty and performance.
Best mechanical keyboards of 2021
1. Corsair K100 RGB Mechanical Gaming Keyboard
The CORSAIR K100 RGB is one of the best optical, mechanical keyboards of CORSAIR. This gaming keyboard is built with a durable aluminum frame that offers outstanding durability and style. Its customizable RGB backlighting keys and edge lights make it super stylish.
This gaming keyboard is developed with Hyper-Processing Technology. The advanced 4000hz polling technology makes this keyboard up to 4 times faster than an ordinary keyboard.
Corsair claims that this keyboard's actuation distance is just 1.2mm, and that's why it gives a lightning-fast response. The company also claims that the keys of this keyboard are designed to last long, so they guaranteed at least 100 million keystrokes.
You can customize the backlighting and media jogging by the iCUE control wheel and Corsair iCUE software. Its 8MB onboard storage can store up to 200 custom macros and RGB lighting settings.
The dedicated media control button can take command of your media & adjust the volume in one touch. The palm rest is very comfortable and comes with a magnetic detachable facility, so you can quickly fix it or detach it as per your requirement.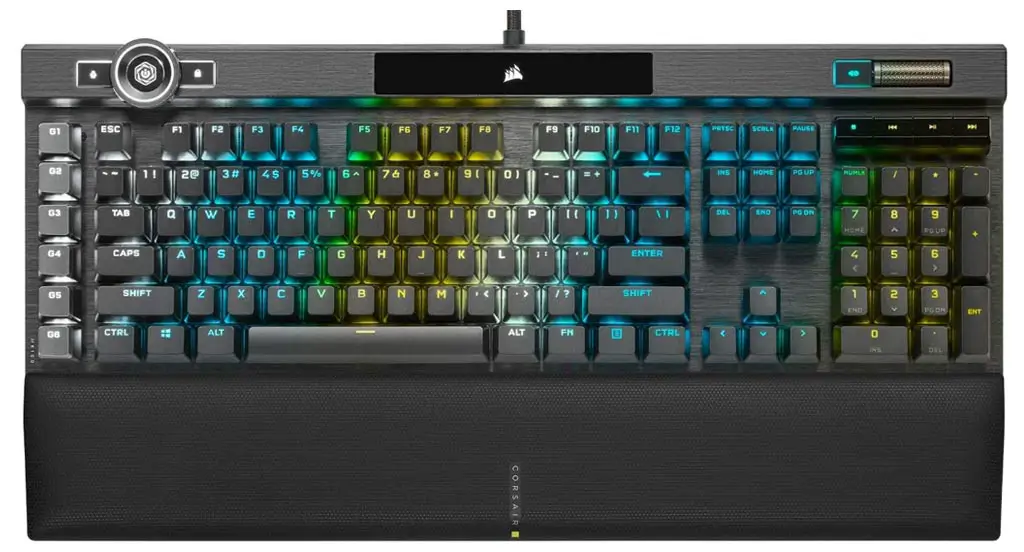 What we think about Corsair K100 keyboard?
Practically K100 is one of the best keyboards in the current market. But we think $ 230 is a little expensive for this keyboard. The keys are durable and use optical technology that makes them long-lasting. We found the control wheel is useless. I mean, there is no real reason to use it.
2. SteelSeries Apex 5 Hybrid Mechanical Gaming Keyboard
Apex 5 Hybrid mechanical gaming keyboard is an excellent SteelSeries product, a Danish organization that manufactures gaming peripherals and accessories. The keyboard structure is made of high-quality aircraft-grade aluminum alloy, which gives strong support and durability. The hybrid mechanical switches are great for daily use, and this will gives you a smooth and satisfying experience.
The custom OLED screen is excellent for viewing info or messages with an uninterrupted gaming experience. Dynamic RGB key illumination control, you can control color schemes and reactive effects for every key. The quality of the wrist rest is pretty good and comfortable with a magnetic attachment facility. That means you can easily detach this extra part anytime.
The dedicated clickable media control roller allows you to adjust volume and settings at the touch of a button. The body has implicit stations that permit you to choose one of three potential spots for the cable to exit, keeping your work area clean.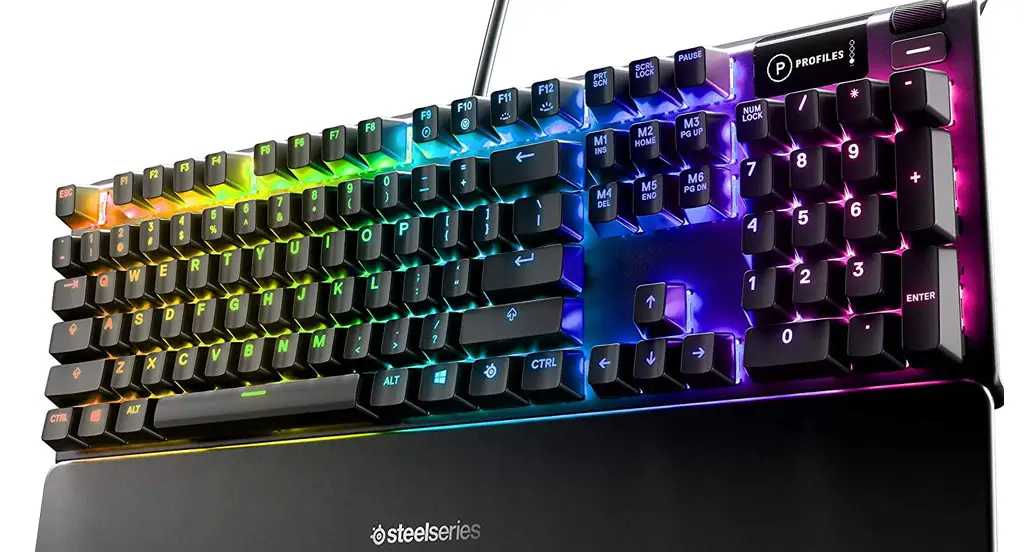 What do we think about this keyboard?
The keyboard is good enough, and the response time is pretty fast. The top of Apex 7 is made of plastic. Only the frame is made with aircraft-grade aluminum. The OLED screen is practically useless. The media control roller is handy as this controls media operation too.
It is a hybrid mechanical keyboard, the switches are excellent in quality, but it is not an optical keyboard.
3. ROCCAT Vulcan Pro Mechanical Optical Gaming Keyboard
ROCCAT is a well known German manufacturer founded in the year 2007. Vulcan Pro is an eminent full-size optical gaming keyboard with RGB backlit. The structure of the keyboard is built of aircraft-grade aluminum that makes it extra strong and durable.
ROCCAT's Titan Linear Optical switches are also great in quality, and ROCCAT claims that it will last for at least 100 million keystrokes. The keys are light to press, and the pre-travel distance of the switches is pretty low. Also, it uses optical technology, which reduces the response time and certainly can give you a fast gaming experience.
The overall design of Vulcan Pro is excellent, and the RGB backlit switches make it a next-level gaming keyboard. The presentation of the additional features like the audio controller and palm rest makes it super stylish.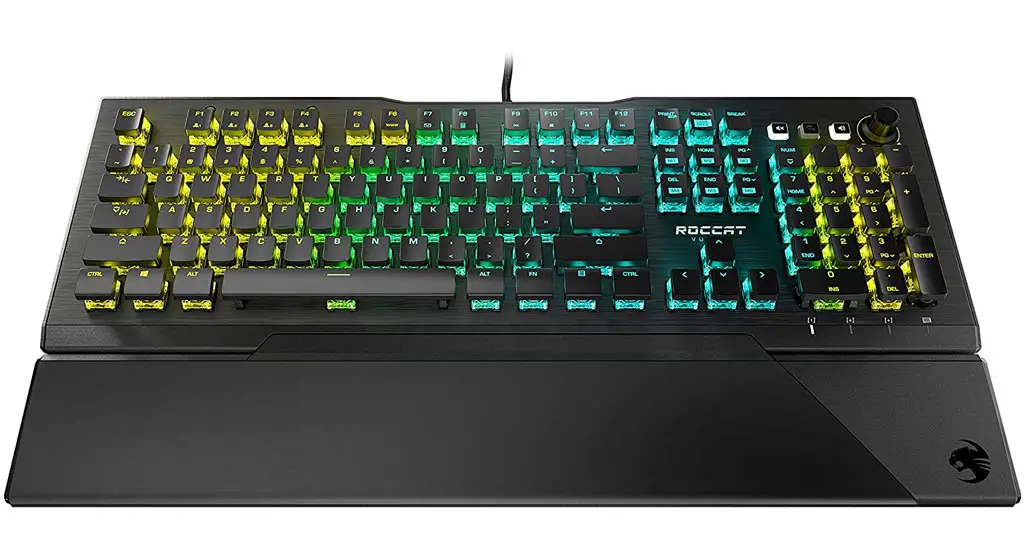 Our Verdict
The keyboard looks premium and feels very stylish. Although we found the quality of the keycaps is not that great. The switches are very smooth and require a tiny amount of pressure to trigger. The mute, FX, and volume buttons are not RGB keys. The keycaps are very thin and exposing the LEDs if you look at the keyboard from a certain angle, and that's why the lighting can become very intense if you look at the keyboard from the side.
4. Logitech K845 Mechanical Keyboard
Logitech is a trustable and reliable computer accessories manufacturer, creating quality products since 1981.
The K845 is a high-quality mechanical keyboard design by the Swiss-American manufacturer Logitech. The keyboard is a full size 104 keys USB corded keyboard with an aluminum top case, making it more stylish and durable.
The keyboard comes with different types of switches that's means you can choose linear, tactile, or clicky buttons for the sound and feel that you prefer. The adjustable tilt is useful to set it at a comfortable angle.
Backlight
You may light the entire keyboard to see all keys or choose your preferable lighting patterns and enjoy your keyboarding.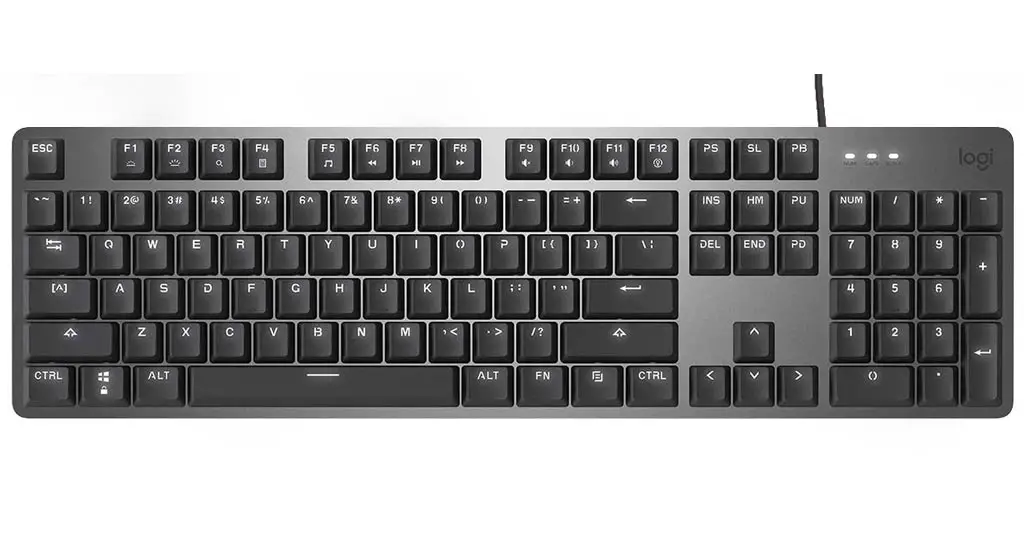 Our opinion on Logitech K845
Overall it is an excellent Mechanical keyboard with a durable aluminum top shield. The backlight is bright enough, but it is not an RGB keyboard. You have the option to choose between Cherry and TTC switches. Also, you may choose between linear, tactile, or clicky switches as per your requirement.
Although the keyboard is quite comfortable for long uses, a palm rest could increase comfort level, which is not available in this model.
It's an excellent keyboard for daily uses but not looks as fascinating as other keyboards in this list.
5. Razer BlackWidow V3 Mechanical Gaming Keyboard
Razer is a Singaporean–American company that specializes in designing gaming keyboard and mouse.
The BlackWidow V3 comes with two mechanical switches variant, Tactile, and Linear. With just 50 G of actuation force, the switches are ideal for typing and gaming requirements. The keycaps use the Doubleshot molding process, which ensures the quality of the labeling.
The keyboard also comes with the V3 Pro variant, which is a wireless version of V3. The media controllers are placed on the top right corner and made from high-quality material. The wrist rest is made of plush leatherette that maximizes the comfort of the gamer.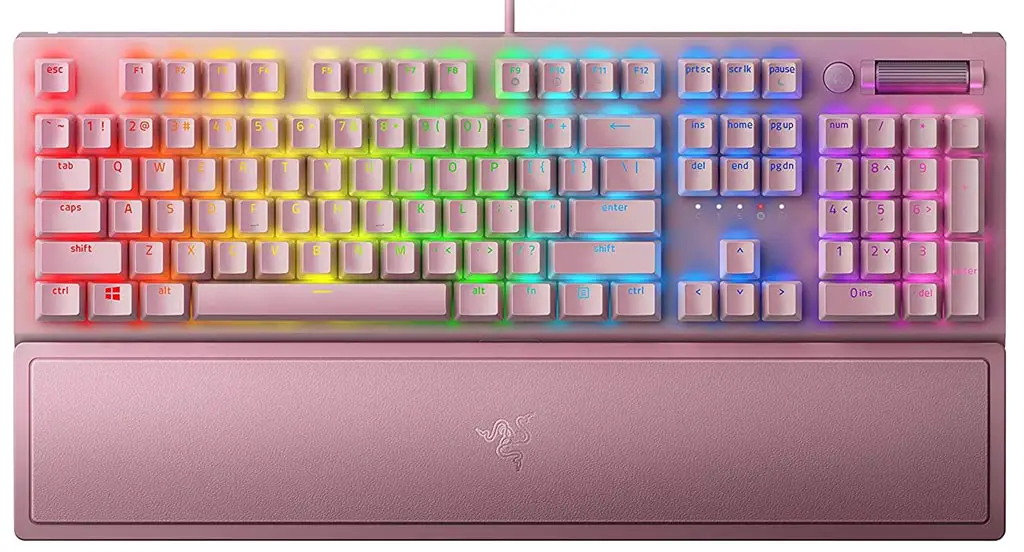 Our Verdict
Razer is a well-known manufacturer of a keyboard and other computer accessories. And the BlackWidow V3 is a quality product of Razer. There is no doubt that the switches and the keycaps are great in quality. The magnetic detachable wrist rest is made of a synthetic material that enhances comfort.
Overall, V3 and V3 Pro is an excellent keyboard for the Windows operating system. The Razer Synapse 3 software is not available for Mac that's why some of the functions will not work correctly on a Mac OS. We found that these are the top five gaming keyboard of 2021. If you want to add your favorite keyboard to this list, let us know in the comment section.
Budget mechanical keyboards
Now some low-cost mechanical keyboards give you the mechanical experience on a pocket-friendly budget.
Redgear Shadow Amulet Mechanical Keyboard
It is a budget keyboard that costs around $ 30. It comes with blue switches that give you tactile feedback. Although the body looks quite ordinary, the overall build quality is great enough. The keyboard comes with anti-ghosting technology. That means you can use multiple keys (up to 26) at the same time.
It is not an RGB keyboard, and the backlit option is very simple. There are very few lighting modes available. So if you are looking for a keyboard that looks superb, you may go for a different one.

Our Verdict Overall the keyboard is good to start your journey in the mechanical keyboard world. The price is really cheap compared with other mechanical keyboards.
RedThunder K900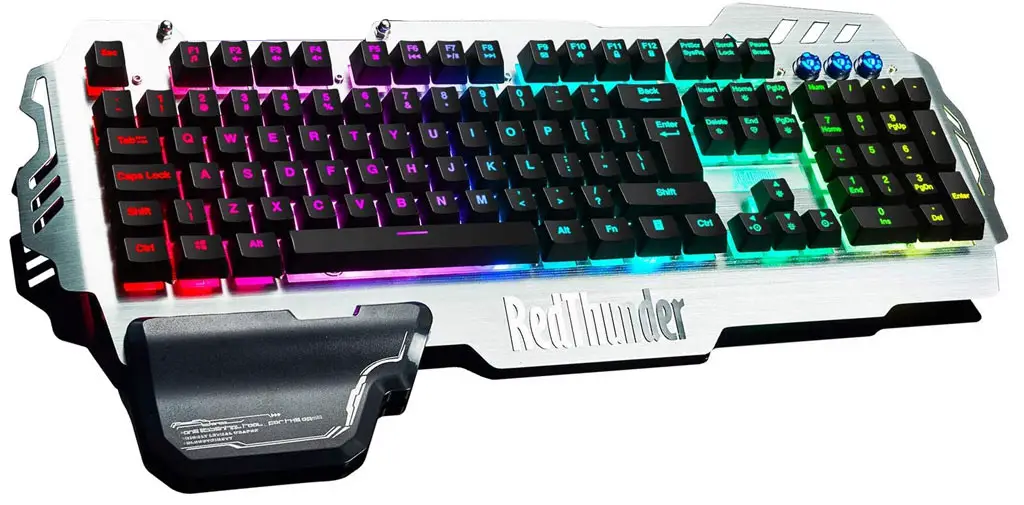 It is also a cheap RGB semi-mechanical keyboard, which costs just $ 40. Actually, it is a hybrid keyboard that uses mechanical switches on a membrane keyboard structure. The manufacturers claimed that the keys had passed the 60 million keystroke test. That's mean it is a super durable keyboard with customizable RGB lighting effects.
Twelve multimedia shortcuts allow you to control volume, brightness, and more in just a click. The anti-ghosting key features allow you to press up to 26 keys at a time.
Although the body core is made of plastic, the metal cover gives it a stunning look and durability.
ROYAL KLUDGE RK920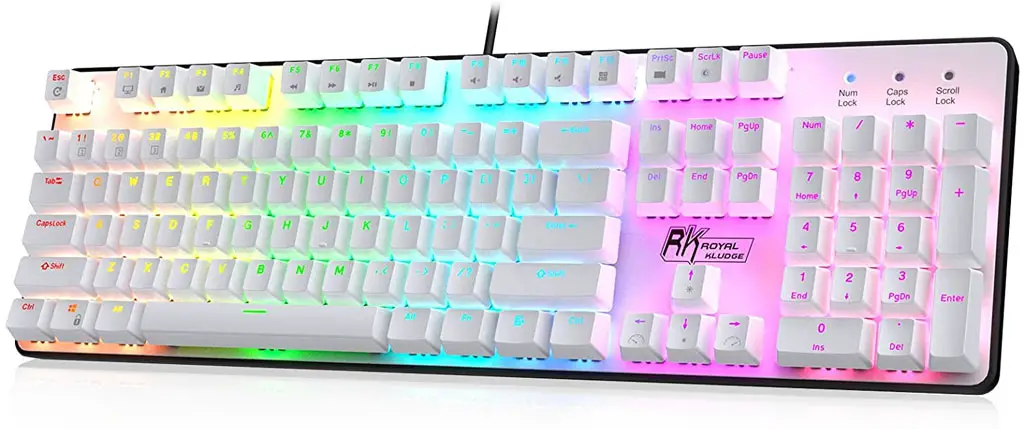 ROYAL KLUDGE RK920 is also a cheap mechanical keyboard. This keyboard comes with three switch variants. Blue clicky tactile switches, Low noise brown switches, and red linear switches. The blue switches version is comparatively cheaper than the other switches. It is a full-sized (104 keys) multimedia keyboard with anti-ghosting features.
Although it is not an RGB keyboard, it allows you to control every single light on the keyboard. This way, you can customize your own backlight effects.
The body is made with durable plastic, and the overall build quality is great enough for a $ 30 keyboard.
Best Tenkeyless Mechanical Keyboards
Drop CTRL Mechanical Keyboard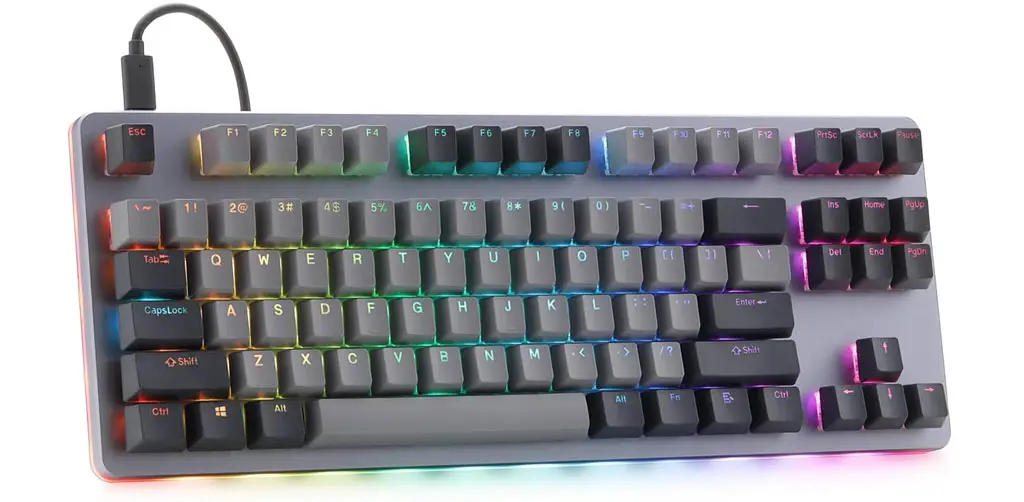 It is an 87 Keys small RGB gaming keyboard. The aluminum body gives it a mesmerizing look and strong durability. The Hot-Swap feature allows you to switch the Cherry MX Brown switches. The Drop ALT is a smaller version (67 keys) of Drop CTRL. Both have USB Type-C connectivity and fully customizable RGB backlighting and under-lighting.
Cost: Approx $300 with Cherry MX keys.
Keychron K6

Keychron K6 is a small (68 keys) RGB mechanical keyboard. If you are looking for a good quality wireless small mechanical keyboard, this one will be the best option for you. The 4000mAh battery can run this keyboard for up to 72 hours with a backlight and up to 9 days without backlights. Besides the wireless option, this has a USB Type-C connection that allows to recharge the battery and connect through the wire. Overall it's a quality keyboard on a reasonable budget.
The cost of this keyboard is around $ 85.
Tecware Phantom Mechanical Keyboard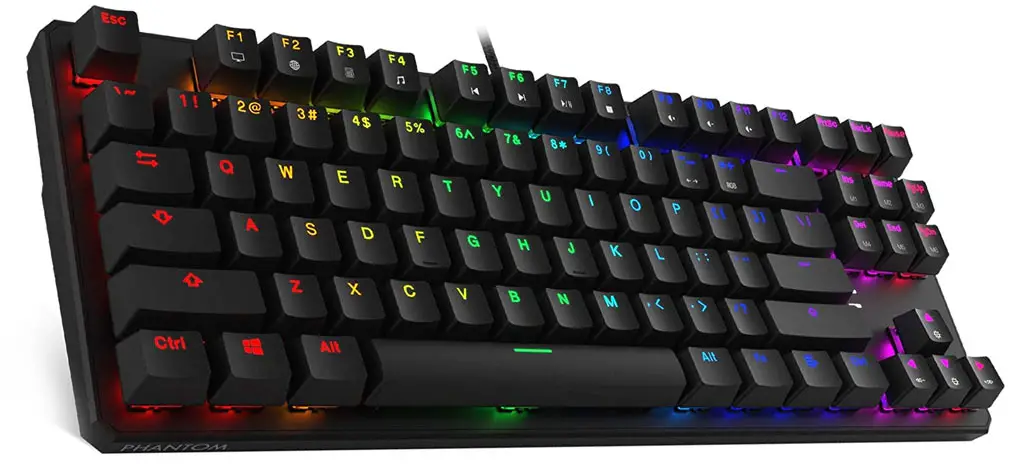 Tecware Phantom is an 87 keys RGB gaming keyboard that comes with Outemu switches. The keyboard comes with blue, brown, and red switches variants. The PCB is made of fiberglass material and body with good quality plastic. This RGB keyboard comes with 18 pre-set lighting modes along with per-key backlight customization. Overall it is a great low-priced mechanical gaming keyboard.
The cost can vary from $ 36 to $ 46 depends on the types of switches.