Best online learning websites
COVID19 changed our lifestyle. And according to WHO and some other experts, this will be a part of our life. That's mean until we found the vaccine, this remains a part of us. Nobody knows how many days we have to wait to get a vaccine. But until we get the vaccine, should we stop completely?
I think this is not an excellent option to fritz all our learning activities and wait for the normal situation. You can utilize this horrible time to make your career better. As I always say, education is the key to success; we can learn any skill or just anything to make our future time better. So today, I am going to tell you ten best online learning websites where you could learn something.
List of best online learning websites
Top 10 e learning sites
Future Learn Future Learn is a great learning platform founded in the year 2012. With over 9 Million users, it is one of the largest online learning platforms based in London. It is a global educational platform where you can learn Business & Management, creative arts & media, Healthcare & Medicine, History, IT & Computer Science, Language, Law, Literature, Environment, Politics, Psychology, and many other subjects.
Plans Free: There are some free courses available, but most are the paid courses.
Paid: The unlimited option is available for $249.99 for one year. It includes hundreds of short courses and tests for one year. They provide a digital certificate of achievement on completion of any class.
Visit Future Learn
Pluralsight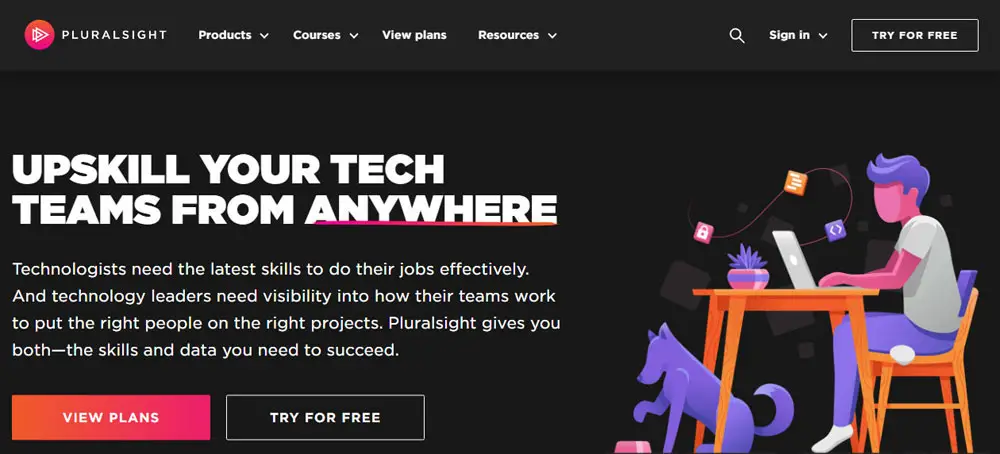 Pluralsight is an American online learning organization, focusing on IT and Software courses.  If you are an IT professional or a student who wants to be an IT expert, this is one of the best platforms. They offer many coding courses, like Javascript, Java, Python, C#, Angular, and many others. Besides coding lessons, they offer short-term courses on Big data, Cyber Security, and other IT subjects.
Plans They have no free plan option. The basic plan starts from $19 per month or $159 per year, and the premium plan starts from $239 per year.
Visit Pluralsight
Edx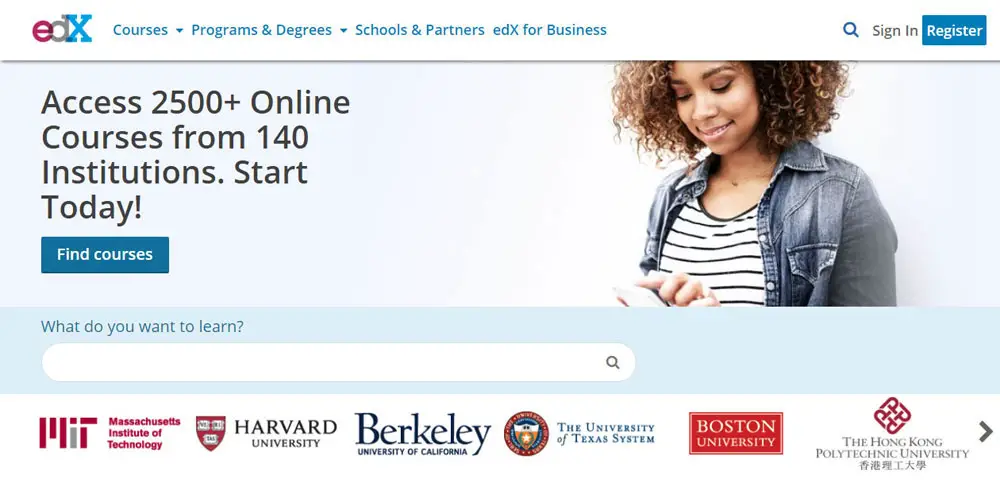 Edx is a massive platform where you can learn several university courses and get certificates and degrees. They have over 140 learning partners, which include Harvard University, Berkley University of California, MIT, Boston University, and many other renowned institutions. They have over 2000 courses on several subjects, includes Architecture, Art & Culture, Biology, Management, Chemistry, Communication, Computer Science, Data Analysis & Statistics, Design, Economics, and several other academic subjects.
Plans Most of their courses are free. You can join the sessions, but to get a certificate, you have to pay small fees.
Visit Edx
Code Academy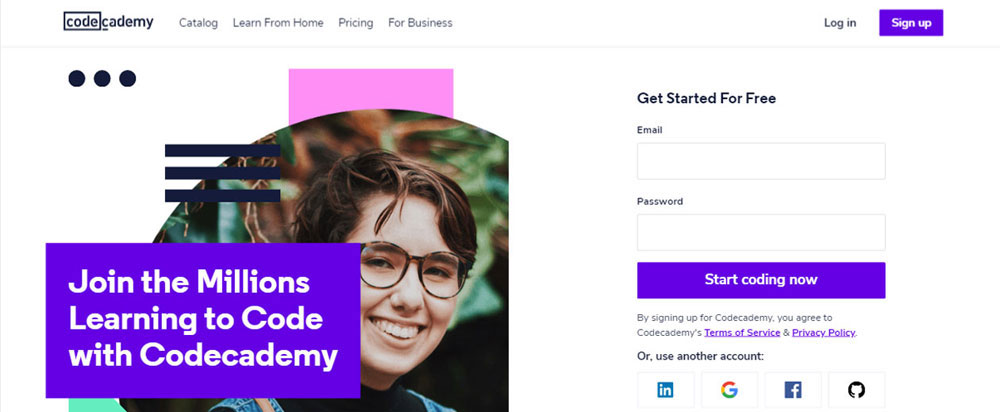 Codeacademy was started in the year 2011 in New York by Zach Sims, Ryan Bubinski. It is a dedicated platform to learn code. This would be an excellent platform for you if you want to learn Python, Java, Go, JavaScript, Ruby, SQL, C, or any other programming language.
Plans Free:  Free basic plan available where you could learn up to 25 courses.
Paid: Their pro plan cost $19.99 per month, where you could learn up to 65 courses. This package also contains live projects to train yourself industry standard.
Visit CodeAcademy
Skillshare Skillshare is a popular USA based online learning portal founded in 2010. It is a platform where you could learn new subjects for free. They mainly focus on short video lessons on animation, design, illustration, photography, business, and writing.
Skillshare is a vast platform that has over 20,000 lessons & more than 4 million students. The main advantage they have is the large numbers of creators and teachers. So if you want to learn anything, join Skillshare.
Plans Free: Free plan available.
Paid: Skillshare premium subscription costs $8.25 per month.
Visit Skillshare
Coursera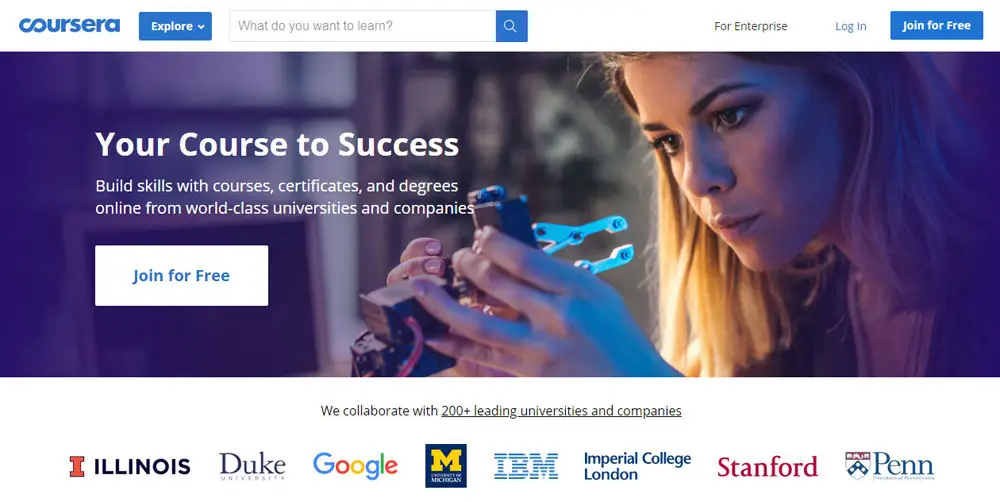 Founded in 2012, Coursera is one of the largest online educational platforms, with over 47 million users. They mainly focus on professional courses from leading universities and companies. So if you want to learn business, computer science, data science, languages, and other subjects from some of the renowned universities and companies, this is the best platform for you.
The main advantage of joining Coursera is their collaborations with some of the great universities and companies. If you want to learn from professionals, you may enter their professional degree and certificate courses.
Plans Free: They have an extensive collection of free courses. Here you can learn many short term popular courses.
Paid: Most certificate and degree courses are paid. Different classes have different fees, so if you want to join, visit their website.
Visit Coursera
Udemy Udemy is a US-based organization established in 2009. They mainly focus on short video-based courses. Their main strength is a large number of learning lessons. With over 150,000 courses and 50 million students, it is the largest video-based learning platform in the world. So if you want to join any short-term course, you may join Udemy.
You can learn here almost anything, from Microsoft Excel to Data Science or Languages. Also, their course fees are very reasonable and courses available in different languages.
Plans Free courses not available, although they give you a 30-day money-back guarantee on any subject.
Visit Udemy
Livemocha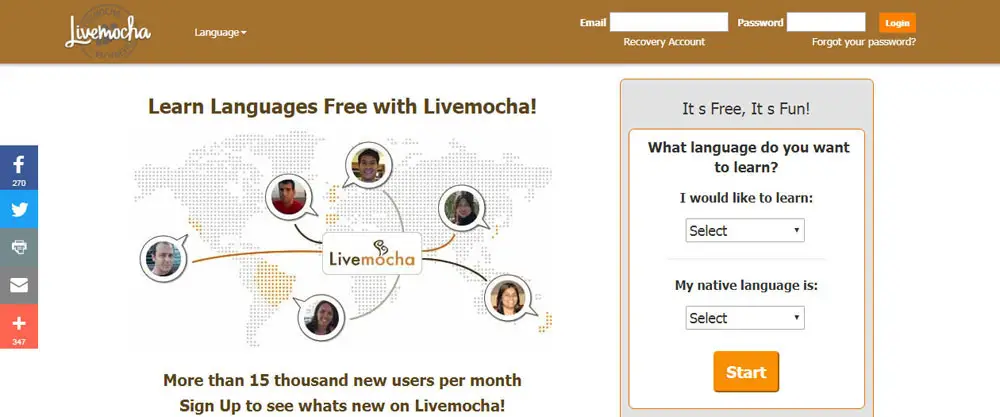 Livemocha is an online language learning institution where you can learn over 38 languages. It's a United States-based company founded in 2007. It is a great community to interact with each other, help each other, and learn foreign languages. With over 12 million registered members, it is the largest language learning platform in the world. So in this lock-down situation, if you want to learn a language, this will be the best platform for you.
Plans Everything is free here so that you can join without hesitation.
Visit Livemocha
LinkedIn Learning Lynda or LinkedIn Learning is a great platform to learn software, creative, or professional courses. It is a subsidiary of LinkedIn, a well known social site for job seekers and employers. So if you want to learn a professional course from some of the world-class trainers, this could be an excellent platform for you.
Plans Free: LinkedIn Learning is free for one month. It is a trial option so that you can understand their teaching standard.
Paid: After one month, you have to pay $30 per month or $240 a year.
Visit Linkedin Learning
Treehouse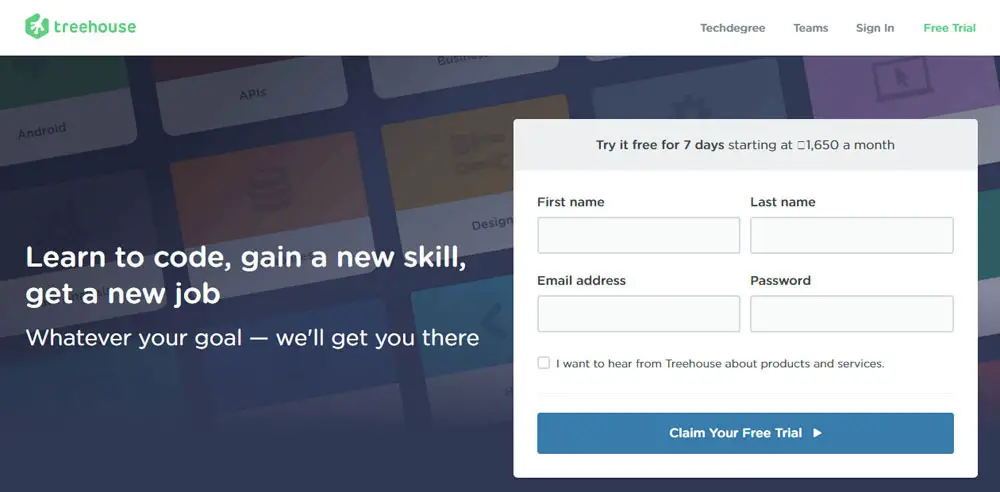 Treehouse is an online portal to learn to code. It's a nine years old organization that has over 50,000 users. They have 300+ courses on programming languages. The main attraction of Treehouse is its collaboration with some huge IT companies like Microsoft, IBM, Amazon, or Google.
Plans Free: They have 7 days free trial plan.
Paid: After seven days, you have to go for any of their paid plans. Their basic plan starts from $25 a month.
Visit Treehouse
Now the bonus
Free typing lessons Online typing is an organization established in 2016 to help people learn touch typing. The free typing lessons contain mainly four types of exercises, that will help you to practice any boost up your typing speed. With over 300,000 learners, it is one of the leading typing learning destinations for you.
These are some of the best online learning websites. Hope this post will inspire you and help you to learn something new in this terrible situation.