9 Typing Games to Boost Your Typing Speed
From the very beginning, games played a significant role in influencing people and inspire us to learn something new. And we, especially children, have a massive attraction to computer games. That's why we can easily use games to teach several lessons to our kids. Here in this post we will discuss on some best games to increase typing speed.
Academic games are a type of games that are specially designed to teach some skill. Typing games are a particular type of educational games designed to learn and practice typing. It is a great way to learn typing while enjoying a game. As typing games play a significant role in understanding the keyboard and improving typing skills, we have developed nine games to help you make your typing fast and more accurate. In this list, we will discuss 9 Typing games that are helpful to gain typing speed.
Before starting, I request you to read this article: "How to type fast?" and find our complete touch typing guide here.
Games for kids to increase typing speed
This section will discuss two "words typing games" and four "letter typing games" specially designed for kids. These games are rich in colors and graphics, so this can easily attract kids.
Typing racing game It is a car racing game where the player has to type fast to move their car more quickly than other players. Here the player needs to race with three other players and reach the finish line before them—this way, the players can compete with each other and practice typing. As most kids love to play racing games, this would be the best option to learn typing.
Play typing racing game
Typing War Master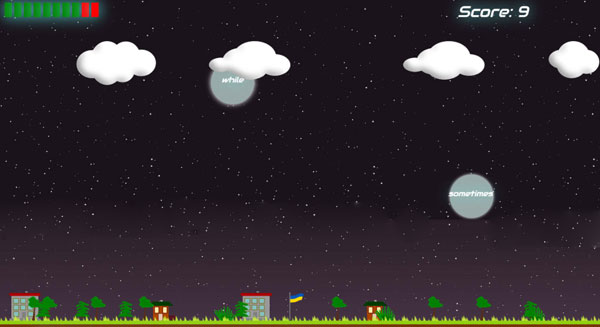 Typing war master is a word typing game that developed to type the most common English words faster. Here your village has been bombarded with word bombs. And your job is to type the words and destroy the bombs before it hit the ground. You will get ten lives, which means when the 10th bomb hits the ground, the game will be over, and it will show you the score.
Play Typing War Master
Bubble typing game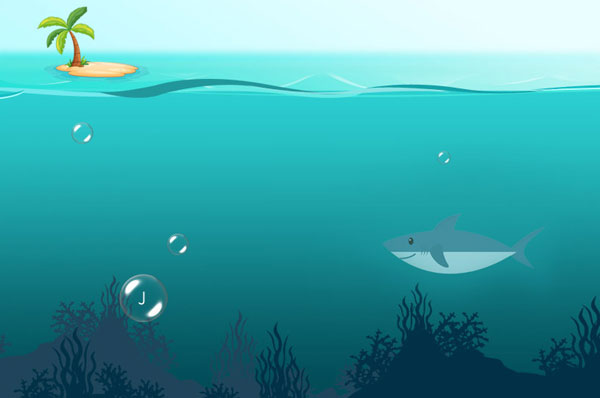 It is a letter typing game, best for beginners. Here some letter bubble appears from the bottom of the sea. Your job is to observe the letters and hit to pop it before it rises the sea surface. In the first label, single letters will come, and then it will increase to double and triple letters. It is an exciting game that can help your kids to make their typing faster.
Play bubble typing game
Typing shooting game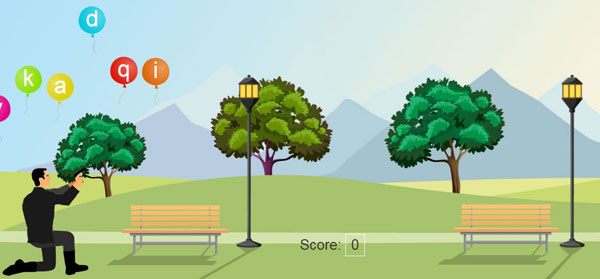 As it is named, it's a shooting game where balloons containing letters will appear from the left side of your screen. Here the player needs to shoot all balloons before it disappears from the screen. It is also a very catchy game with attractive colorful graphics.
Play typing shooting game
Cat typing game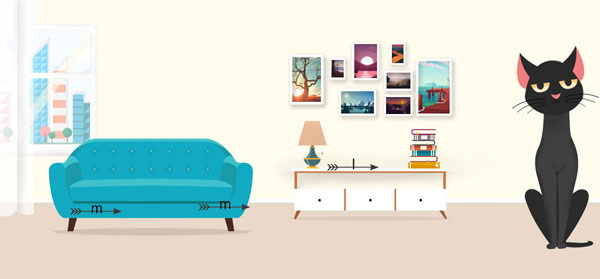 It is also a letter typing game where a cute cat is set aside in a park. Arrows with English letters come from the left side of your screen and hit the cat. Your task is to hit the letters before the arrow hits the cat. Here the cat has six lives; that's mean after 6th hitting, the cat will die, and the game will over.
It's an attractive typing game that will definitely pull the attention of your children.
Play cat typing game
Typing war game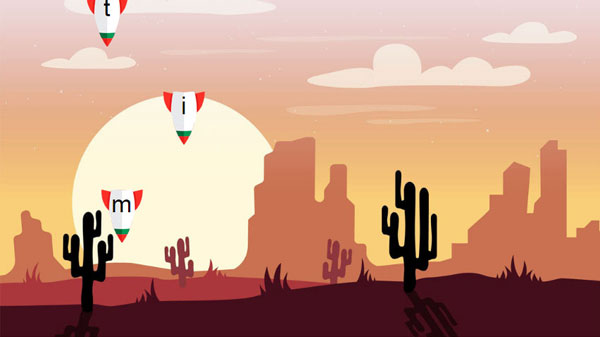 It is the last letter typing game of our list. It is a war game where the missiles fall from the sky, and you need to destroy the missiles by typing proper letters. The game automatically changes its background after every session. So you can enjoy the new environment every time you play it.
Play typing war game
Typing games to learn touch typing
Typing Ninja Game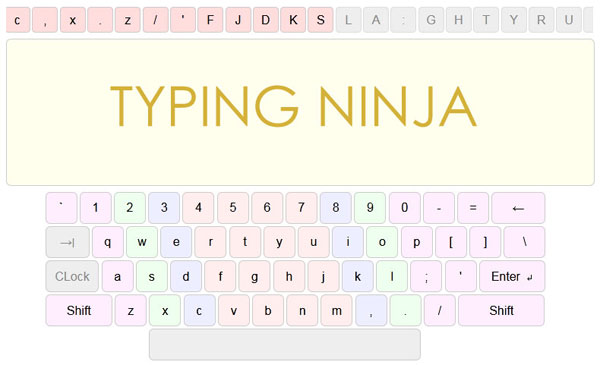 Typing ninja game is an advance typing game that is very helpful to practice touch typing. This game supports QWERTY, Dvorak, and Ru keyboard layout. So if you want to practice in the Dvorak keyboard, this is a perfect game for you.
If you want to learn touch typing, this game is best for you. If you play this game regularly, your typing speed will surely increase within 30 days.
Play Typing Ninja Game
Typing practice games
It is a basic label typing game specially made to learn and practice touch typing. This game is straightforward, and anyone can quickly learn touch typing by playing this game. As this game guide player to place the fingers in the right position, it is one of the best typing games for a beginner touch typist.
Play typing practice games
Fast Keys
Fast Keys is an excellent game for new learners. Here a letter will appear on your screen, and your job is to hit the character within the given time.
Play Fast Keys
These are the nine best typing games that are great to learn and practice touch typing. So if you are a typing learner, it's recommended to play these games besides practice typing regularly. I hope this list will help you to use your free time to learn typing.