How you could earn money by typing 2 - 3 hours a day?
update on 21 February 2022
Admin
Welcome to another post of our typing blog. In this article, we will discuss how you could earn money by typing online just 2 - 3 hours a day?
I am sure that most of us would like to work at home and make money online by working a few hours a day, preferably 2-3 hours max. Everyone wants to earn some extra money from the internet, and there are many videos available on YouTube that claim with the help of their process, you can earn thousands of dollars without making any effort. But you have to understand this simple fact that you either have to sell any product or provide any service if you want to make money.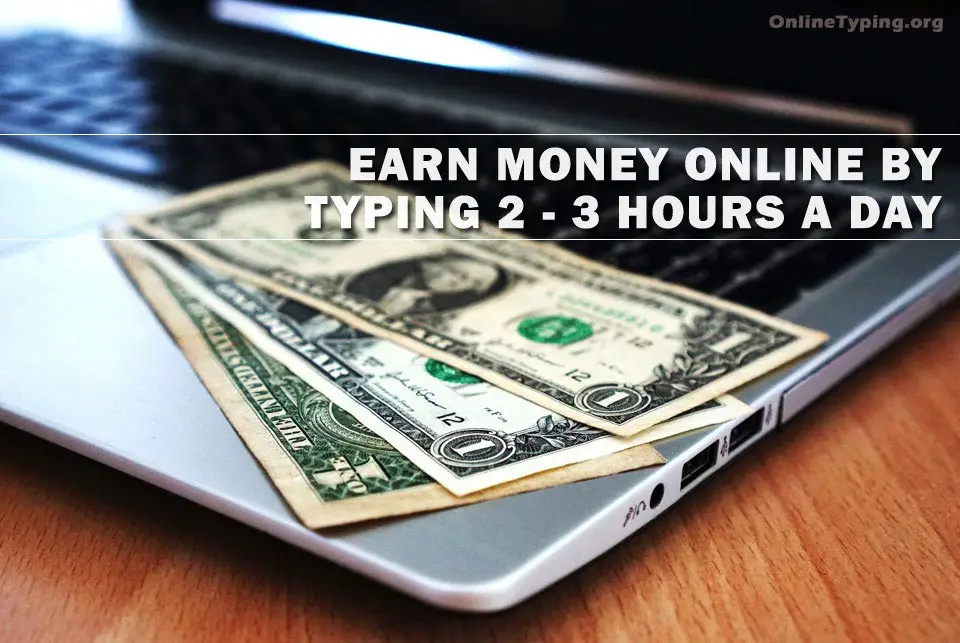 Writing articles is one of the best ways to earn money online. Many of you may hear that some of your friends make regular income by writing articles or web content. It's true if your writing skill is good enough and you have an excellent typing speed; you can easily make $1000 a month.
Types of online jobs for a typist:
Before discussing this topic, let's talk about the types of jobs for those who type fast and accurately.
There are three main categories: transcription, data entry, and general office work. Transcription is more demanding because it requires accuracy and attention to detail rather than just speed; however, it also pays better on average. Data entry can be done from anywhere as long as an Internet connection is available. General office work includes tasks such as making copies or faxing documents.
Data entry is where a company sends a large amount of data, such as invoices or receipts, that needs to be typed into a database or spreadsheet. This can be done via software or on paper onto a computer, depending on the type of data entry project. The pay for data entry can be on either a per-assignment basis or an hourly wage, and it is the easiest way to earn money by typing.
In the transcription industry, the person has to listen the audio files and document on the transcription software and then write it. The pay for transcription can be hourly, or per assignment, depending on the company you are working for.
General office work also includes proofreading, from home proofreading other people's writing or company documents. This company usually hires writers on a contract basis instead of hiring them as employees.
Now that you know all about the type of work that can be done at home let's talk about where you can sell your service and how?
There are many websites available where you can enlist yourself and start working; also, you can sell your pre-written articles, content, or presentation. Here I enlisted the 10 most reliable places to market your service.
Top 10 websites to earn money by typing
Fiverr
Fiverr is one of the most significant freelance services marketplaces in the world. Here you can sell anything, I mean almost anything. If you are a good writer, then you may earn a lot on this site.
You just need to create an account. After that, you can post your service and the price you want. For quick results, you may advertise your gig too.
Tips to be success on Fiverr
When you're selling on Fiverr, it's essential to be clear about what you're offering. You don't want to promise something that you can't deliver or that will take too long to complete.
Be sure to describe your service in detail, and include examples of your work. You should also make it clear what the customer can expect from you and what the turnaround time will be.
It's also important to be professional and courteous. Respond to messages promptly, and be willing to work with the customer to ensure they're happy with the final product.
Freelancer
Freelancer is another excellent platform to make money by writing articles. Here you have to create an account to start. After login, you may bid on any project and get the job. But it's crucial to have a good rating to get any job here. So how could you increase your rating on Freelancer and what to follow before bidding on a project?
When bidding on projects on Freelancer, it's important to make sure that you submit a clear, concise, and accurate proposal. Here are a few tips for submitting a proposal that will help you stand out from the competition:
- Make sure that you include a cover letter in your proposal. This is your opportunity to introduce yourself and explain why you're the perfect person for the job.
- Make sure that your proposal is well-written and error-free. Typos and mistakes will make you look unprofessional and will likely cost you the project.
- Be sure to include all of the relevant information about your experience and qualifications. The client wants to know that you're qualified for the job, so make sure that you include your track record of completed projects.
- If you have any questions, contact the client before sending in a proposal. Make sure that you ask them any questions you might have about the project before putting together your submission.
Indeed
Indeed is one of the largest online job portals in the world. You can search for any typing-related job here, and you can search for local jobs too. If you want a full-time job, Indeed is the best option for you.
To start, you need to create an account and upload your resume. When an employer selects your profile, you can directly contact them and fix the deal.
Upwork
Upwork.com is great to work remotely as a content writer. If you have knowledge of content writing, this is one of the best options for you. Like Fiverr, here, you don't need to create any gig and wait for a long time; you just need to search projects and then bid.
You can do a few things to increase your chances of getting projects at Upwork. One is to make sure that your profile is complete and up-to-date. You should also make sure to list all of your skills and experience, as well as any awards or accolades you may have received.
Another vital thing to do is bid on projects you are qualified for. Don't bid on projects that are out of your reach, as you will likely not be selected for them, and it will lower your chances of being chosen for future projects.
Finally, make sure to send a proposal that is tailored to the client's needs. Be sure to read the job post carefully before submitting a bid.
Airtasker
Airtasker is an Australia-based freelance job posting and hiring platform where you can get a content writing or a typing job. First of all, you need to register as a tasker then you can apply for copywriting jobs that are listed on the portal.
There are two ways that you can earn money through Airtasker. The first way is to complete the tasks you are hired for, and you will be paid for every task you complete. The second way is to become a Tasker yourself and post tasks that you need to be completed. This way, you can hire someone to do the task for you and pay them.
Guru
Guru incorporation is a marketplace where freelance workers can work remotely and earn money. This is a great platform to make money by writing the contents of several websites. You need to create an account to start a job, and once you open your account, you can contest for a job and start working.
PeoplePerHour
PeoplePerHour is a UK-based online platform to work as a freelancer and earn money by finishing a task. It was founded in 2007 and till then it serves thousands of people. You may open an account here and post your skill. People who want your service can appoint you on an hourly basis or project-wise.
Here are some tips on how to make money through PeoplePerHour:
1. Make sure that you have a skill that is in high demand on the platform. Some of the most popular skills include writing, design, programming, and marketing.
2. Be prepared to work hard and deliver high-quality work. This will help you to build a good reputation on the platform and attract more clients.
3. Bid on projects that are within your budget and scope. This will help you stay profitable while working on projects you are interested in.
4. Keep track of your hours and invoices so that you can accurately bill your clients. This will help maintain a good relationship with them and help you become a reliable worker on the platform.
LinkedIn
LinkedIn is an American employment-social web portal. It is an excellent platform for employers and job seekers. Although LinkedIn is mainly used for professional networking, we can use this to earn money by typing website content, advertisement, or promotional articles. It can be a great tool for job seekers, as it allows you to connect with potential employers and colleagues. Here are some tips for getting a job on LinkedIn:
1. Connect with your network. The first step is to make connections with people in your network. This could include former colleagues, classmates, or friends who work in your desired industry.
2. Use the search function. LinkedIn's search function is very powerful, and you can use it to find potential employers or employees.
3. Upload your resume. Make sure to upload your resume so that potential employers can see it.
4. Use keywords. Keywords are important on LinkedIn since employers will be looking for them. You should put keywords in your profile's headline, summary, and experience section.
For example, if you want to work as a content writer, place the keyword "content writer" in the headline, summary, and work experience section.
5. Update your status. Keep your status updated to remind everyone that you are looking for a job. This will let prospective employers know that you are available and what you are looking for.
6. Include your skills and interests. You should also include relevant skills and interests to make yourself more accessible to potential employers.
7. Join groups and participate in discussions. LinkedIn groups are a great way to get involved with the industry or company you want to work for.
FlexJobs
FlexJobs is another good platform to work remotely. You need to log in to find jobs. Once you get your desired job, you can apply for it.
Facebook
Although Facebook is a social networking platform, you can actually get typing jobs using it. Search for large job groups and join. Many employers post their requirements on several Facebook groups. You just have to find and apply. I personally recommend you to join the Online Typing group to get the latest update on typing and earn money from it.
Finally: These are the top 10 sites where you can earn money by typing a document or an article. Here you can find a variety of different typing jobs, and most of them are very easy to do. You just need to be able to type quickly and accurately. But it is essential to have a clear idea of what you will write. I hope this article will help you make money using your typing skills.
Share Your Comment